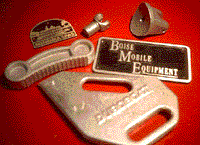 We are a non-ferrous foundry in Tacoma, Washington that produces aluminum, brass and bronze casting using sand molds. For over 25 years we have been involved in manufacturing for all types of industries including marine, aircraft, automotive, recreational, and audio speakers. We strive to consistently produce high quality products at reasonable prices.
Although we do a lot of high production parts we are still a small enough foundry that can provide personal service and help with design work for new products. We work with a lot of inventors and start up companies and help them get going on their casting projects. If you have an idea and would like some consultation to see if sand casting would be right for you then don't hesitate to send us an E-mail and maybe we could point you in the right direction. We can usually give you a rough idea of pattern cost and casting cost by a written E-mail description or a faxed sketch..
Of course if you are a big company and would just like a quote on your latest drawings, we would like your business as well. Just fax us or mail us your drawings and we can usually come up with a firm pattern price and casting price within a week.
We also cast custom plaques including car club plaques, and bathtub clawfeet reproductions. Also check out our Recent Projects page for some of our customers including some interesting inventors.
You can also click on our Frequently Asked Questions to learn more about sand casting, our metals, pattern design, or antique reproductions
Dennis Nyland-owner
3762 So. 60th St
Tacoma, Washington 98409
Phone-253-475-2643
Fax- 253-475-1908
E-mail: Nyland@CreativeCastingCo.com